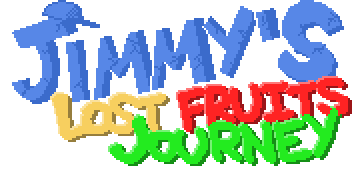 Jimmy's Lost Fruits Journey
A downloadable game for Windows
What is Jimmy's Lost Fruits Journey?
Welcome to Jimmy's Lost Fruits Journey! It's a game inspired by NES classics, such as Super Mario Bros., Mega Man 2 and Ice Climbers. It's about a young boy named Jimmy, who wants to save his own lands from starvation. Dr. Vegg has lost in the food contest, and is now trying to get rid of every single possible fruit tree in the fruit plains in order to prevent the citizens of the said place from winning in the contest ever again. Can you prevent Dr. Vegg's evil plans and return the peace once and for all? Find out in Jimmy's Lost Fruits Journey!
Development cycle
This game has been a passion project of mine for a very long time. First started out as a simple Clickteam Fusion game way back in may of 2020. I couldn't keep on working on that version of the game and it was cancelled. Then, a few months after that, I made a remake in the same engine which was also cancelled. It was then decided to move onto a new game engine, which is GameMaker: Studio. This is where the current build was made. This game at the current moment features 32 levels, a boss battle and a couple of secrets! Can you find them all?
Install instructions
.EXE file: Download the game and run jimmys-lost-fruits-journey.exe
Source files: Download the archive and place the contents into a folder. You will need GameMaker: Studio v1.4.9999 or higher to open and compile the .gmx file. You will also need FamiStudio in order to open the files in the "music_files" folder.
Download